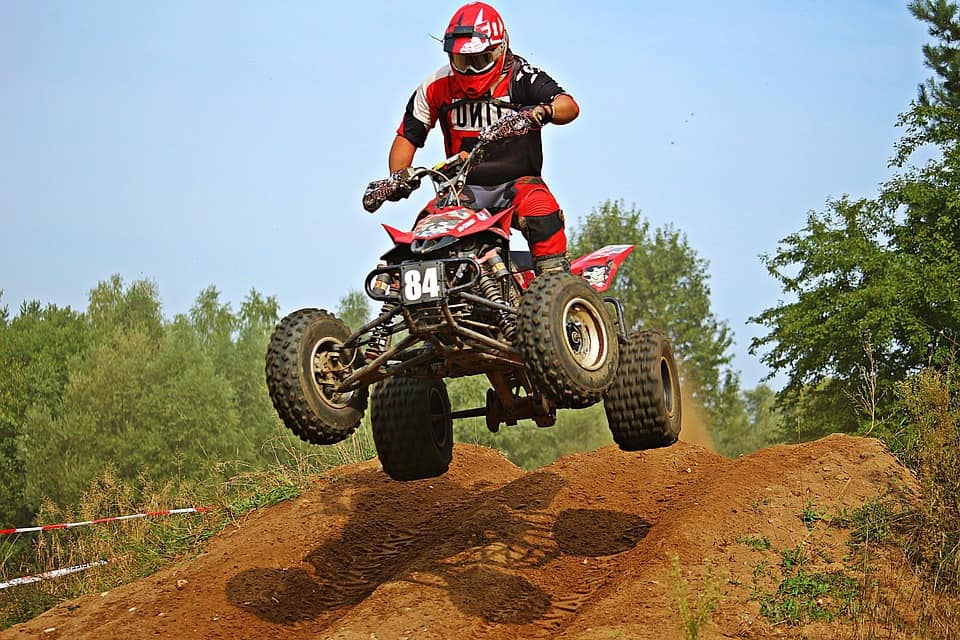 Are you dreaming of the Dakar Rally in the quad category? Check with us the best models of sports machines.
Quads, or ATVs (All Terrain Vehicle) are very popular machines in rural areas. The simplest constructions can be purchased for a few thousand zlotys. However, we will introduce a slightly different category – sport quads.
Although it may seem strange at first sight, quads were quickly popularized as sports vehicles. Thanks to their availability, it is possible to train them from an early age and one may go really far – the career culminates in the world's biggest cross-country rally, the Dakar Rally, where, since 2009, quads have been a separate category.
Yamaha Raptor 700
All Dakar Rally winners in the quad category – including 2015 triumph winner Rafal Sonik – have ridden the Yamaha Raptor 700. 13 victories in the world's biggest cross-country rally are enough to unanimously proclaim this model the best quad for racing.
The current consumer model offered for sale is the YFM700R SE. It is a design equipped with a 686 cubic centimeter fuel-injected single-cylinder four-stroke engine. It has been mated to a 5-speed transmission. The drivetrain is housed in an aluminum-alloy frame, and the entire structure incorporates many aluminum components to reduce the vehicle's weight to 192 kilograms.
The racing flair is evidenced by KYB Piggy Back adjustable front and rear shocks with gas compression, disc brakes with hydraulic calipers, 22-inch tires from the renowned off-road racing brand Maxxis, as well as a racing fuel map, high compression head and special valve cams.
Buying the best racing quad in the world will cost us about 48 500 PLN. This price is subject to change, depending on exchange rate fluctuations.
Can-Am Renegade X XC 1000R
Yamaha quads took as many as nine first places in this year's Dakar Rally. Among the representatives of other manufacturers, Suany Martinez came closest to winning, losing just over 29 minutes to the winner. The Bolivian contestant was riding a Can-Am Renegade 850.
The Canadian manufacturer does not offer in Poland this particular version with an 850 cc engine and 78 horsepower. Instead, we can opt for a model with a V-twin Rotax engine with a volume of as much as 976 cm3 and power of as much as 90 horsepower. Unlike the Raptor, this model boasts switchable four-wheel drive with an automatic differential lock and TTI independent floating-torsion rear suspension. You'll pay around £76,500 for such a machine.
Can-Am Renegade DPS 650 T
If the above price is too high, we can think about the Can-Am Renegade model costing only 53 thousand, with a 650 cc engine and 59 horsepower. It is a unit with electronic fuel injection and electronic throttle control iTC
The DPS in the name indicates power steering, which will translate to much less driving fatigue. An automatic and continuously variable transmission and a traction control system will also take care of that. Like the model with the larger engine, the DPS 650 T comes with an attachable four-wheel drive, and the suspension is oil-filled.
Can-Am DS 250
For those taking their first steps in the world of quads, the Can-Am DS 250 was created, which costs only 25 thousand zlotys. It is a design with a small, 249-centimeter engine, to which fuel is delivered through a carburetor. Unlike its bigger brothers, it lacks an attached second-wheel drive, but it does have a continuously variable automatic transmission and independent front suspension and disc brakes.
Honda RTX250X
Japanese manufacturer Honda has only two sporty models in its lineup, one of which is designed for kids. The other is the TRX250X with a 229cc four-stroke engine mated to a five-speed transmission. While at the front we get independent suspension and disc brakes, at the rear there is only one shock absorber and drum brakes
The whole thing is quite light, 175 kilograms, and the purchase is to convince primarily by the low price, which without tax starts from 18 thousand zlotys – but it is difficult to find its availability in Poland.
Polaris Scrambler XP 1000 S
American manufacturer of, inter alia, motorcycles and quads Polaris is rather little known in our country, but overseas it is direct competition for Can-Am.
The most interesting model is the Polaris Scrambler XP 1000 S, in which we can find half-shafts and a front differential taken from the RXR XP 1000 side-by-side Dakar racers. It is a quad with a 90-horsepower 952 cm3 engine and four-wheel drive attached. It is equipped with complex multi-link suspension on both axles and traction control and engine braking systems.
The manufacturer boasts as much as 140 centimeters of width, which is supposed to translate into increased stability and qualifies the vehicle for the T3b category – useful news for entrepreneurs, as they can claim 100% VAT write-off. An interesting feature is its two-passenger homologation – if necessary, we can transport a passenger. The price is high, because it is as much as 72 999 PLN.
Polaris Scrambler XP 1000
An extremely interesting option may be a smaller, without the "eska" model of Polaris, which costs as much as eight thousand zlotys less. This is due to its smaller dimensions – thanks to which it falls under a different class approval – and an engine which is weaker by… one horsepower.
Polaris Sportsman 570 SP Öhlins
Delving into the Polaris model range, it is impossible to pass by indifferently a vehicle equipped with factory-fitted Öhlins suspension. This is one of several limited editions from the Sportsman range, costing a reasonable 51,999 PLN. Interestingly, among the optional accessories the manufacturer offers, among others, a snow plow.
Yamaha YFZ450R SE
Returning to Yamaha, in addition to the Raptor, which conquers everything, in the manufacturer's offer there are even smaller models, better for learning. The YFZ450R Special Edition is a model whose main advantage is a racing overload clutch for faster shift times. It also features lightweight composite shocks with aluminium suspension, high-performance camshaft cams, disc brakes, and advanced fuel injection control.
The real treat are the hooks known from the professional level sport, allowing the removal of body parts in just a few seconds. The model costs 48 900 PLN.
Yamaha YFM90R
The last vehicle in our list is admittedly designed primarily for children, but the manufacturer assures that it is equally suitable for adults. Costing only PLN 15,000, the YFM90R is equipped with an 88-centimeter engine with a carburetor, but it is combined with an automatic transmission that makes riding easier. The whole structure weighs only 120 kilograms, but despite this you get a real, adjustable suspension with long travel. In order not to make the science too expensive, the manufacturer encased the engine in cover plates, which will protect this component in case of a collision with an obstacle.