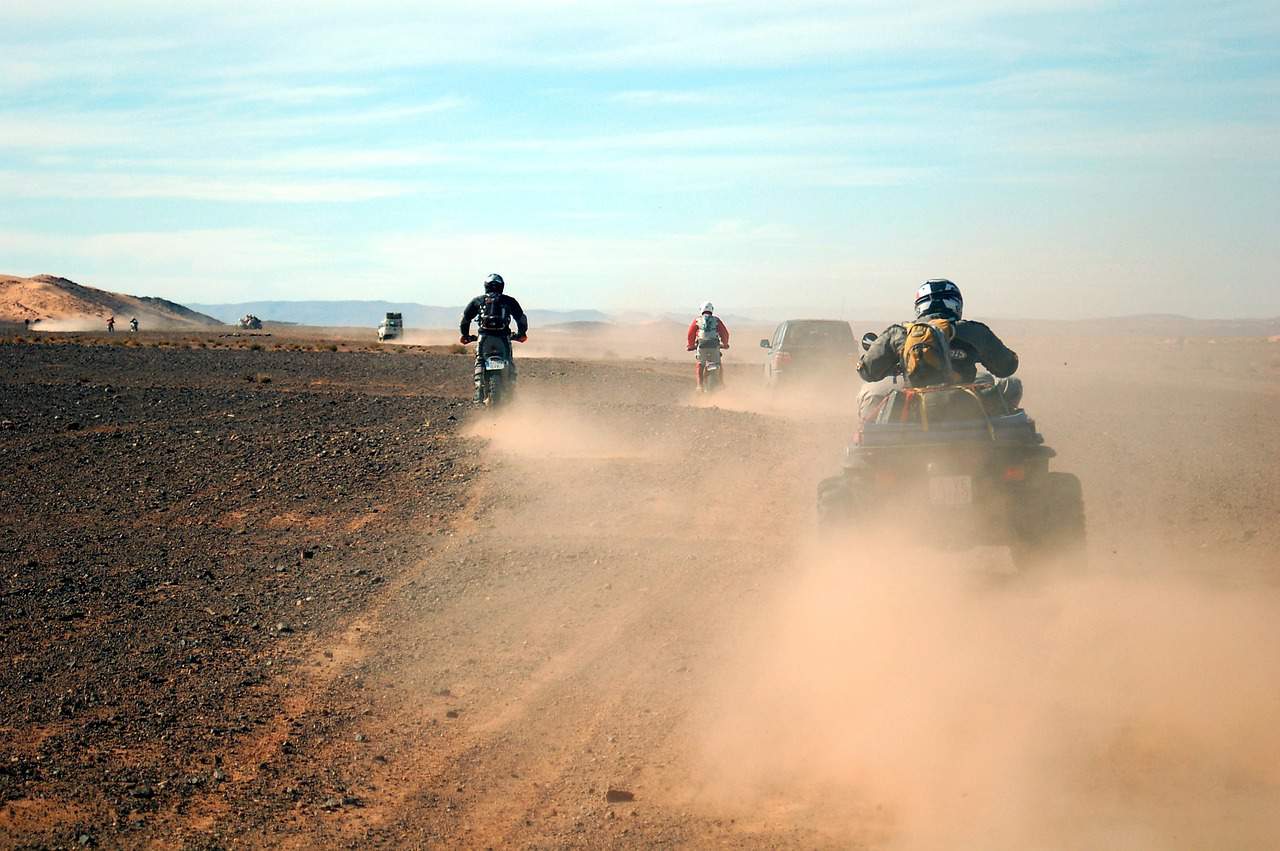 Quads can be used in many ways - they provide great entertainment and also improve everyday work. We present TOP5 amateur uses of four-wheelers
Quad is a vehicle with a wide range of applications. It's huge capabilities are the reason for the considerable popularity of quads – both among professionals and amateurs
Riding a quad – the most important information
Quads are four-wheelers, which are associated mainly with difficult terrain. This is not without reason – they allow us to get to many places which would be impossible to reach with a car. A four-wheeler is a vehicle usually with a two- or four-stroke engine, the performance of which enables driving on difficult terrain. The reduced pressure in the tires also plays a very important role, thanks to which the vehicle can cope with muddy or sandy road sections.
Quadricycles are differentiated into light quads and regular quads – in this case the difference concerns weight and maximum speed. Vehicles in the first category have a weight of up to 350 kg, so they can be driven even by minors with an AM licence. Due to the application, quads are divided into sport, recreational and off-road quads. Each of these types differs in many parameters, such as dimensions, design, engine capacity and type of drive. Choosing the ideal quad should depend on the intended use
A sightseeing tour
ATV tours are organized almost all over Poland. This is an ideal opportunity to feel the adrenaline and experience an amazing adventure. Such a trip is possible all year round – snow or bad weather are no problem for quads. Usually these are several-hour or all-day rides on pre-planned terrain. Routes include features such as steep descents, mudslides, lake crossings and more.
For those who prefer a quieter ride, attractions that offer a classic sightseeing tour will be an excellent choice. Each scenario can be customized to suit individual needs. Organized trips are very popular, but a large number of people decide to go on such an adventure on their own. In the case of less experienced drivers, it is very important to take a companion on such an off-road trip. The presence of another person will be very helpful in case of an accident or other problems
Riding in difficult terrain
Regardless of whether our quad is used for recreation or purely for business, one thing is certain – it will cope well with any difficult terrain. Depending on the type of quad bike, one will perform better and the other worse. It is therefore worth considering before buying such a vehicle, what we will use it for.
The best type for off-road driving is obviously a cross-country quad. It has a 4×4 drive, which is the absolute basis in off-roading. Thanks to it, you will be able to cross muddy pits and even lakes without any problems. Moreover, such a drive solution provides much better grip to the ground. These vehicles also have more ground clearance than other types, as well as very good shock absorbers. Their engines are usually units with a capacity of more than 250 horsepower. Off-road four-wheelers are perfect for forestry and agriculture.
Farming application
Quad in agriculture finds a very wide application. The presence of a towing hook makes it possible to pull a light trailer, which is a very practical solution. Such a vehicle can transport harvested crops, mowed grass and other, heavier materials.
Among the other benefits of using quads in agriculture, it is worth mentioning the speed in moving around the pastures and fields. Thanks to its small size, a quad can perform much better than a massive tractor in many situations. There is also a possibility of mounting additional equipment – a snowplow or a mower, for example, may prove useful. The purchase of a quad bike will be a great choice for all those who appreciate effective and efficient work.
Amateur competitions
Recently, many events have been organized during which four-wheeler enthusiasts can test their strength on specially prepared tracks. These events are characterized by a high level of safety, which is extremely important when riding a quad – unfortunately, accidents involving such vehicles happen relatively often. The course features climbs, jumps, sharp turns and long straights, which is everything that motorsport fans love. Before taking part in the amateur event, it is important to sign up in advance – there is certainly no shortage of volunteers!
A means of transport for short distances
If your four-wheeler has the type approval and valid third party liability insurance, you can safely use it as a means of transport on public roads. Of course, ATVs are unlikely to work when we plan a trip to another city, but in the case of short distances, they work great. Just start the engine, put on a helmet and go to a nearby place – fast, efficient and fun.
(Photo: pixabay.com)