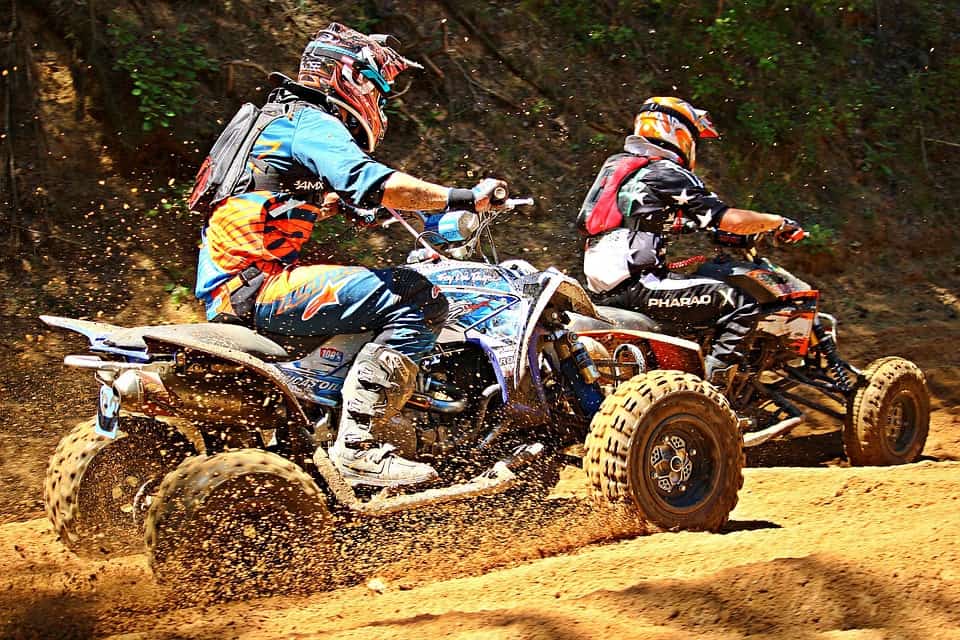 You want to finally buy your first internal combustion ATV that can easily handle wet, muddy terrains and steep climbs in the woods. What to keep in mind when buying one?
There are plenty of quads on the market, as well as manufacturers of these vehicles. It's no wonder that choosing a diesel quad for offroad you have a bit of a problem. In this article, however, we will tell you what to keep in mind when choosing a quad. You only need to search for a specific offer!
Crawler, quad, quad bike, ATV – there are many names for this vehicle. What is interesting, there are equally many types of quads, not to mention their manufacturers. We'll give you some tips on what to consider when choosing a diesel quad for off-roading. However, we'll start with something else, namely licensing and legal issues.
We assume that if you're looking for a quad for special tasks, you have a category B1 driver's license. Probably this kind of quad will weigh more than 350kg. The law says that in order to drive a quad with a weight greater than this, you need at least this category
But that's not all: if you're going to ride the all-terrain vehicle only in the woods, you don't need license plates, homologation or third party insurance. However, let's agree that you have to get to the forest somehow, and then you will probably travel on paved, public roads. Then your ATV must have the items listed above. Also, do not forget that no matter whether you ride on roads or in forests – you must always have a helmet.
First of all, big tires and 4×4 drive
Alright, let's get down to specifics. Let's start with the tires, which are one of the hallmarks of quads ideal for offroad. The main thing is that they should be big enough
Often you can meet all-wheelers, which wheels and tires are even as high as the vehicle itself. It is not surprising, it depends on them whether the quad will get out of boggy, marshy terrain or deep mud or not. It should be noted here (this no longer applies to buying) that such tires should not be inflated too much. A little less air means better grip on difficult terrain.
This, in turn, will not be lacking, if you bet on quads with four-wheel drive. For offroad use, this is an ideal solution that you can't forget about. If you've ever had a chance to navigate through muddy terrain on a quad with front-wheel drive, and then on both axles, you certainly wouldn't go back to the former.
Body width also matters
When opting for an internal combustion quad for off-road use, remember to choose vehicles with a fairly wide wheelbase. As a result, the vehicle itself should be wide enough. It is also a matter of better grip, but also stability during off-road driving, especially when it comes to steep uphill and downhill sections
So bet on large wheels with a wide track, where the drive is transferred to each one. Even going fast over relatively rough terrain will be relatively safe and secure – you'll see!
High ground clearance and more
The final aspect of choosing a diesel quad for off-roading will be its ground clearance. As you can guess, the ground clearance should be high. All because, when driving in deep mud, the vehicle should have four points of contact with the ground, and they should be only the tires. Otherwise, the body parts will block the quad, and you will only break important parts, such as the intake ducts for filters or the carburetor.
What kind of off-road quad to choose?
First of all, you should give up recreational ATVs, whose power and weight are relatively low. They will simply cause problems when it comes to going uphill or riding over bumps, not to mention the low ground clearance they have. Sport quads are not a good option either. They have a sturdy construction designed for jumping loads, and they have four-wheel drive, but they also have low ground clearance
Rather, bet on cross-country quads, equipped with 4×4 drive – you can already deduce from the name that this is the best solution. This type of all-wheelers has reinforced suspension, considerable capacity and engine power ranging from 300 to 995 ccm. Of course, they are equipped with high ground clearance.
(Photo: pixabay.com)